Optimising work and workforces
Building a curious and adaptive workforce that's driven by purpose and performance
In a world where intangibility holds the key to value, how do we measure what cannot be seen and control what has historically been impossible to measure?
Workforce optimisation is the nirvana of management science, historically riddled with complexity. Today, with advanced analytics, we have built empirically evidenced models that challenge the old ways of doing things. We have enabled clients to model and build the digital workforce of the future through a unique, analytic-led approach, increasing workforce resilience and lifetime value.
The ability to analytically link different drivers and enablers of productive work to business outcomes is transforming the way organisations approach workforce management.
The combination of workforce strategy and intelligent production is giving rise to a completely new way of thinking about the optimisation of work. Traditional approaches to the management of the employee lifecycle are giving way to a much more commercially oriented view of the key steps involved in maximising the potential of people. Our new approach maps the relationships between workforce orchestration, supply, demand and readiness to drive powerful insights and value modelling.

We are working with clients to build analytic measurement systems and data-driven workforce models that get under the hood of the complexity of work. This allows leaders to make more informed decisions, improve the work experience to create a great place to work, and drive greater value for the business.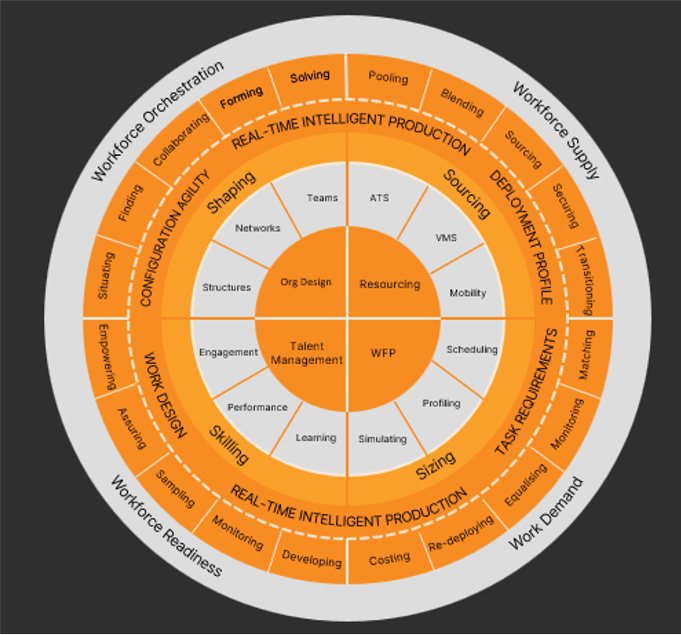 Digiworkz have supported the build of our digital lighthouse, focusing on areas such as digital leadership and our citizen developer program. Their innovative approach to digital transformation, with a major emphasis on human factors and building communities of practice, has also been invaluable for running the change streams of major programs in the Middle East.
Plans, actions and impacts to propel workforce productivity in a more distributed workforce are more likely to succeed if they take a data intelligence approach. Digiworkz not only advocate this but have the in-depth knowledge to show you exactly how.
Global Head of People Sciences & Innovation, Barclays
Through partnership with Digiworkz we have developed an innovative new experience offering for our global clients. Digiworkz have also enabled us to accelerate our digital ambitions, transforming the way we deliver change initiatives and shape a 'great place to work' with a human-centric approach.
Experience Design and Delivery Practice Lead, Fujitsu