Making Hybrid Working...Work
Measuring and optimising hybrid work through advanced analytics.
Many organisations have adopted new working models but are struggling to know if they are making the right decisions.
We have powered clients with a hybrid working measurement system to re-shape their work culture and enable better wellbeing, productivity and performance.
You cannot manage what you cannot measure... How is hybrid working out?
Organisations need to address critical issues such as employee well-being, work culture, diversity equity and inclusion in a hybrid world in order to provide a healthy work environment and maintain skilled talent. Our hybrid working analytics allows leadership teams a central hub to measure the impact of hybrid working on their employee experience, customer delivery, and business outcomes to truly understand how to pull the levers that drive value from hybrid work.
Measured across the dimensions of Health, Yield, Behaviour, Relationships, Innovation and Digital our proprietary metrics taxonomy, methodology and data analytics modelling allows our clients to draw actionable insights from the data, and make informed decisions about hybrid working practices.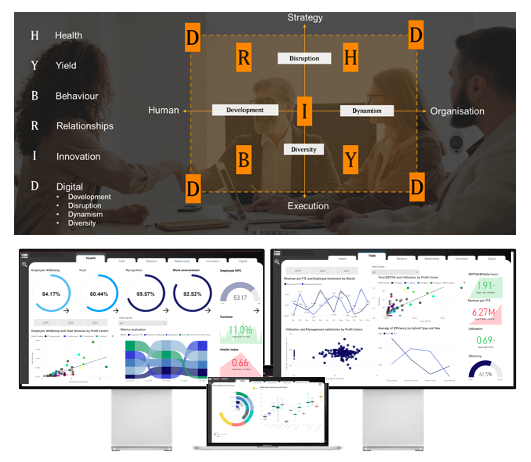 WANT TO KNOW MORE ABOUT HOW WE ARE HELPING ORGANISATIONS with measuring hybrid working?
Request a personalised eBook where we deep dive into greater detail how we help organisations with hybrid working measurement systems to re-shape their work culture and enable better wellbeing, productivity and performance.
Digiworkz have supported the build of our digital lighthouse, focusing on areas such as digital leadership and our citizen developer program. Their innovative approach to digital transformation, with a major emphasis on human factors and building communities of practice, has also been invaluable for running the change streams of major programs in the region.
Plans, actions and impacts to propel workforce productivity in a more distributed workforce are more likely to succeed if they take a data intelligence approach. Digiworkz not only advocate this but have the in-depth knowledge to show you exactly how.
Global Head of People Sciences & Innovation, Barclays
Through partnership with Digiworkz we have developed an innovative new experience offering for our global clients. Digiworkz have also enabled us to accelerate our digital ambitions, transforming the way we deliver change initiatives and shape a 'great place to work' with a human-centric approach.
Experience Design and Delivery Practice Lead, Fujitsu UK