As Christmas 2021 is upon us, many people around the world will unfortunately be affected once again by a wave of the unceasing pandemic. For those who are lucky enough to shelter and shield away from Omicron with their loved ones, there may still be a few presents under the tree... but in a year of such tumultuous ups and downs, what makes it on to Santa's list this year? If sales of items like the Peloton, or Virtual Reality headsets are anything to go by, what we do know is that what people want, and may even expect as a Christmas present, has rapidly changed over the course of the last couple of years. The desire for different gift items has fluctuated wildly, due to the changing contexts we live in.
This is much the same in the world of employee experiences, where we see a similar trend developing. What people put on their Christmas list (what they expect their employer to offer) has shifted. This is part of a wider sea-change in the way that people expect to be treated in their work relationships.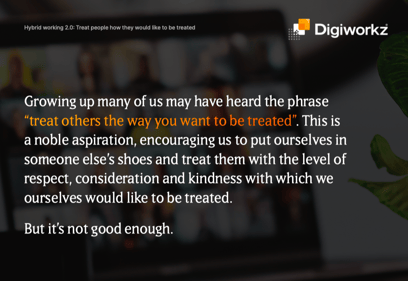 What do employees expect from the organisations now?

In the age of hyper-personalisation, employees expect their individual needs to be catered to. Their personal motivations and aspirations recognised. Their job role tailored to their unique skill set and growth journey. Their workspace to be set-up to their specific ergonomic requirements.
So, the challenge for organisations, line managers and colleagues is not to "treat others the way you want to be treated". It is to "treat people how they would like to be treated". This is an all-together different challenge.
Hybrid Working 2.0

Whilst the trend of personalising work and tailoring employee experiences was already in the ascendancy, the rise of hybrid working has accelerated a shift in expectations. People now increasingly expect a hyper-personalised work package, which embraces the full diversity of their human experience.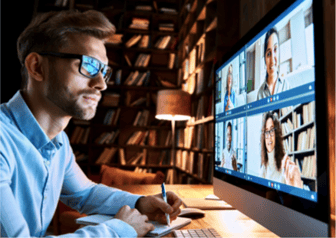 And why shouldn't they? Everyone deserves the opportunity to reach their full potential in work. This is beneficial both to the employee and the employer.
Why wouldn't you want to provide people with the best work experience you can?

Why wouldn't you want to get the best out of your people?

So, when developing your approach to hybrid working, or reflecting on how you interact with your colleagues – think to yourself "am I treating this person how they would like to be treated? Do I really know how they would like to be treated? Or am I treating them how I would like to be treated, based on my experiences, perceptions and assumptions?"
Framework for 'Treating People How They Would Like To Be Treated'
Beyond reflecting upon this topic and adopting the mindset of 'treat others how they would like to be treated' in day-to-day interactions, what are some of the key ways that senior leaders can help to ensure the new hybrid work experience matches people's expectations?

Offer people more choice and flexibility on their working arrangements than your business has traditionally been comfortable with.
2. Involve the workforce on decisions around hybrid-working policy, and ensure that decision-making processes are transparent.
3. Assess the extent to which each individual's ergonomic set-up is tailored to their needs, and address the gaps.
4. Review policies and procedures around issues such as compassionate leave to ensure that they allow line managers enough discretion to flexibly accommodate individual circumstances and differing cultural norms.
5. Go beyond the use of traditional surveys and develop more sophisticated ways to gauge sentiment across a broad range of persona types.
6. Using pulse surveys, signals, sentiment analysis, anonymous video feedback, digital suggestion boxes, regular polling, and more, get a real sense of how employee experience related policies and decisions impact how people feel.

These are a few quick-start steps to consider. For a more detailed look at how to re-imagine the employee experience and put human needs at the heart of work design.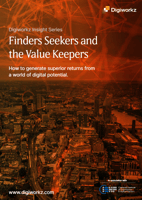 For further discussions on attitudes at work, the human factors revolutionising the employee experience, and how to navigate the fast-changing landscape of workforce-related challenges, see our latest insights report: 'Finders, Seekers… Value Keepers'. 'Finders, Seekers… Value Keepers'.