Behind every great transformation, there's an even greater team. But that team doesn't need to be, and shouldn't be, the same team delivering time after time. By tapping into cognitive science and powerful analytics, we can build SuperTeams of diverse people to achieve extraordinary performance, says Digiworkz's Laurence Collins.
A great team is aligned, committed, focused on goals. It wouldn't be unreasonable to assume that this high performing team that is doing really well must be a super team. Yet a super team isn't a team of super people. A SuperTeam is a group of people connected through meaning, thinking and AI, to collectively solve problems.
What's the benefit of SuperTeam? A SuperTeam team is much cleverer, can solve problems faster, can better understand challenges and can outthink its competitors. SuperTeams can deliver transformation at speed in a way that other teams can't.
From Game1 to Game2 thinking
Becoming a SuperTeam is much more than a mindset change says Peter Nowlan, Professional Business Coach and panel member at our 31st March webinar. "It's more than parallel thinking where lots of people are thinking about solving the same problem. It's connected thinking whereby the collective thinking of the team enables entry to a zone of extraordinary performance."
A common occurrence in collaborative working, says Peter, is that a lot of the time is spent in resistance between team members and interference between them: "Therefore, a group of clever people does not automatically make a clever team. In fact, to make a clever team, you've got to work quite hard on the connections between the people and the gaps between the interference."
Once you tap into a new way of SuperTeam thinking, 'Game2 thinking': "You change the way you meet, you change the way you think together, you change the way that you manage your thinking and how you manage change. This absolutely shifts what you do and your success, but it starts with how you think and talk and how you connect with each other."
Peter explains that Game1 thinking is what we normally do. We can do it very well and be successful using Game1 thinking. But there is another way. Game2 thinking begins as team thinking and takes performance to a higher level, challenging Game1 thinking. This move is something we'll discuss further in this month's webinar.
Building a SuperTeam
In a world of fast-paced change and disruption, organisations typically find that successful transformation projects often rely on the same really talented individuals. But this team can't continue to deliver. Cultivating SuperTeams opens up the opportunity to create more high performing teams that access the zone of extraordinary performance.
These five considerations act as a guide to the characteristics of SuperTeams.
Thinking styles. Using a variety of thinking styles to solve the big issues. Thinking differently outside ingrained routines and processes.
Team composition. Dynamic and relative to the tasks that need to be done and relative to the project duration. Fluidity in the way that teams collaborate with external resources and partners.
Telepathic cognition. Collectively thinking about ways to solve problems. Learning together and thinking together to spark new creative solutions. Group cognition overrides individual preferences.
Trusted empowerment. The team is trusted to operate using Game2 thinking, free of the constraints of Game1 thinking. There is empowerment to try new ideas or make mistakes.
Transmissive collaboration. Seeking out collaboration, breaking down barriers, expanding the knowledge base. Solving a problem together so it becomes transmissive.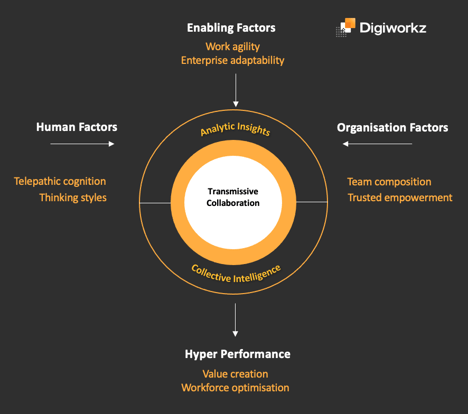 The role of technology in managing SuperTeams
Digital technologies, and in particular AI and technology, have a massive role to play in both the building of SuperTeams and in the management of them.
The recognition and quantification of resistance, communication ineffectiveness and causes of 'interference' within teams is becoming the domain of emergent workforce and workplace analytics technologies. Continuous listening, signal detection, thematic tracking and quantamental analysis provide a 3D picture of organisational, culture and change terrains. Contained within these terrain maps are the components needed to create the pathways to SuperTeam composition.
At Digiworkz we are using AI, advanced measurement and analytics to inform what a SuperTeam looks like - where do we find team members? How do we bring them together? How do we inspire them to collaborate? Plus, once the project is underway, technology helps us to track, monitor, improve and troubleshoot.
Join us to find out more about building SuperTeams
On 31st March we'll be exploring creating, managing and growing SuperTeams, in both BAU and project environments. Please join us and our expert panel of John Kerner, Special Projects Director at Highways England; Scott Adams, Director of Employee Experience Solution Sales at Microsoft and Peter Nowlan, Professional Business Coach.
To register your place, click the link below.