Part 3 of the 'Countdown: The Race For Digital and Human Skills' series
The skills measurement solution
Our thought leadership and technology from our digital ecosystem provide the most comprehensive, data-driven skills strategy a company can have. Our digital toolkit provides meaningful skill insights to our clients, outputting 77 measures of skills health and measures resilience relative to work demand requirements, helping clients inform and adapt their skills strategy, identifying critical interventions such as:
Re-skilling opportunities across clusters of people and teams
Skill corridor acceleration between two proximate groups of people or role types
Strengthening skill pools through the re-prioritisation and re-direction of learning and development interventions.
What should be measured?
Skills Health Index
Whilst our data sets, evidence-base, frameworks and innovative tech solutions form a critical part of Digiworkz's Intellectual Property, I'm happy to share with you a high-level overview of one our measurement frameworks: The Skills Health Index.
This is just one element of our wider framework and toolkit for skills measurement and improvement, built to unlock value in medium-sized enterprises.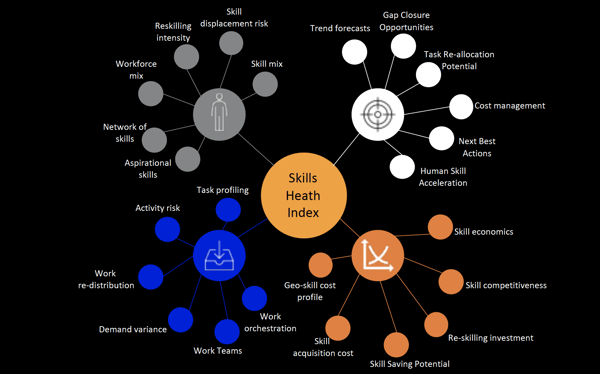 Skills Analytics
The transition to skill analytics presents new opportunities for skill management and the mitigation of skill related risks.
We utilise the technology capabilities of ProFinda – a market leader in skills analytics – to accelerate the time to meaningful skill insights.
Through partnership with ProFinda we have developed a powerful approach to building skills capability using a series of metrics to guide strategy, learning, mobility and resourcing.


The output from this engine are 77 measures of skills health and resilience relative to work demand requirements. These are then used to inform:
Re-skilling opportunities
Skill corridor acceleration
Strengthening of skill pools