''Graphite and diamonds have the same formula of atoms, yet it is how those atoms connect with each other that determines value. Similarly, at work it is the structural make-up of our social relations around us that predict how effective, engaged, or creative we are'' – Laura Weis, PhD, Satalia.
COVID-19 forced organisations to solve new problems, collaborate in new ways and rapidly respond to a new, more dynamic environment. This was a response driven by togetherness, unity of cause and the power of collaborative networks. Organisations are now charged with maintaining that shared sense of purpose and collaborative way of working. We are entering a new era of digital collaboration, where collective intelligence has become a key competitive advantage and previously experimental or 'nice-to-have' technology capabilities are now business critical. Organisations must go further and faster with collaboration - moving far beyond the roll-out of communication platforms, to truly enhance problem-solving and linkage to value creation.
Collaboration For Resilience
It has become apparent from the tests of organisational resilience in 2020 that effective collaboration can be the difference between success and failure. Collaboration at scale, channelled towards solving the problems that stand in the way of future competitiveness is business critical. This is forcing organisations to examine much more deeply what it is that actually constitutes effective collaboration. Previous attempts at broadening connections, making communication virtual and increasing social capital have been useful staging points, but surely the summit all organisations aspire to is the kind of meaningful collaboration from which cognitive and creative capabilities merge to form a consistent flow of value. At Digiworkz we focus on creating the environment and means from which this form of collaboration can flourish.

Critical Levers
With the rapid shift to remote-work scenarios, when talking about "collaboration" we tend to refer to working with others using some kind of tech platform, but this doesn't just mean connecting people through communication channels. Organisations can use team intelligence such as Microsoft Workplace Analytics to understand, measure and improve how work gets done. Innovative firms are also using AI to intelligently connect people, skills and work for rapid project formation, and sharing of knowledge across organisations.
Whilst collaboration technology is critical, it is not a fix for a culture that is not collaborative to begin with. Organisations need to establish a culture of trust, that promotes and rewards effective collaboration and team building to achieve common goals. This requires excellent leadership to ensure that the tools and analysis are used effectively. McKinsey's research found that a critical lever for effective performance was having collaborative leaders at the centre of the organisational network. Leaders are able to influence, construct and embody a culture where collaboration thrives, or fails.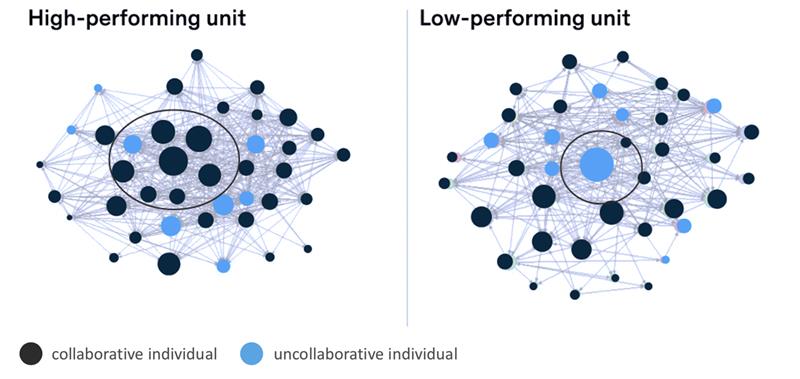 Image: McKinsey & Co.

Team intelligence platforms such as Temporall's Workbench can help leaders to measure and optimise communication flow within an organisation, conduct Organisational Network Analysis, measure output of teams and many more things, but the question they must ask is: 'What are we aiming for? What would a work environment to support successful digital collaboration look like?'
Supportive Culture
Based on our research and client work, the leadership role is integral to constructing a high-performance collaboration culture. Leaders must help their teams to co-create a culture where everyone has:
The psychological safety to communicate effectively and build connectivity
The ability to access skills, resources and knowledge across the whole organisational network
The facility for collective problem-solving and co-creation of value
The autonomy to explore self-directed initiatives and things that may not work
The cognitive dexterity to explore conceptually challenging areas and the cognitive diversity to avoid the pitfalls of 'groupthink'
The collegiality, trust and loyalty to work as a unified collective


The above list is a significant set of cultural requirements, especially for a distributed workforce. Clearly then, collaboration isn't just about the tooling: it's about creating the ideal conditions, culture and mindset for people to work together. AI-based solutions offer new ways of connecting people who may previously never have crossed paths, whilst teams intelligence can be used to measure and improve the flow of information and around a network. By understanding the multitude of factors that enhance collaboration organisations like Microsoft are building a more resilient organisation, more able to deal with the workforce impact of shocks like COVID-19.
Conclusion
2021 is the year for organisations to build a culture of collaboration. Technology should be used to build and support a collaborative culture where diverse networks of people connect, solve problems together and combine their knowledge. This will ensure they combine their collective intelligence to transcend the 'graphite' of poor collaboration, and create the 'diamonds' of connected, problem-solving teams.

Actions organisations need to take now are:

• benchmark the level of collaboration you currently have
• analyse how your climate and environment enable or block the conditions for collaboration to thrive
• evaluate the extent to which collaboration is either building or undermining your workforce resilience

Thank you for reading and if you'd like to learn more about collaboration, register for our webinar: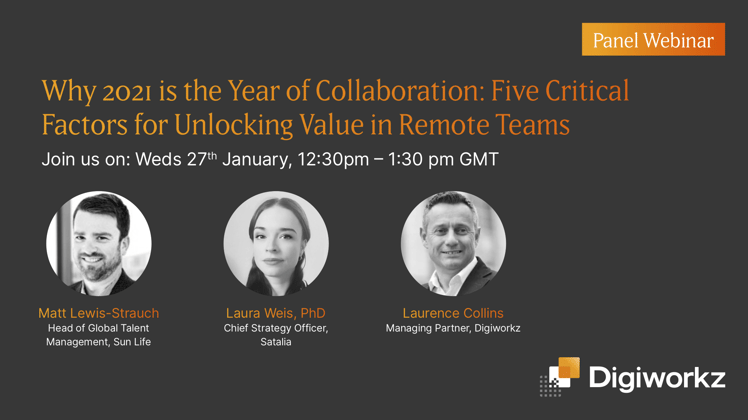 Thanks for reading
This blog was written in collaboration with Laura Weis, PhD. Laura is the Chief Strategy Officer at Satalia. With her deep expertise in workforce technologies, organisational design and network analysis, Laura brings a innovate view to the debates surrounding effective digital collaboration. Laura will be a guest speaker at our webinar on January 27th.