Are you ready to realise the value of digital transformation? In the second of our series of webinars, the topic was managing digital transformation in overdrive. Our participants contributed to the debate and their insights revealed that the vast majority of organisations say that they only have a 50:50 chance of being able to deliver on objectives. Our panel explored ways to stack the odds in the favour of success.
Panel members
Chris Matthews, Commercial Executive Director at Virgin Media
Maz Hussain, Leader of Digital Innovation and Digital Lighthouse a KPMG
Sarah Sinclair, Former Digital Programme Leader at Schroders & Founder of Change Gap
Laurence Collins, Managing Partner at Digiworkz


Direct investment in digital transformation is forecast to grow at 22.1% globally between 2021 and 2028 (Fortune Business Insights, February 2021). But although "We have business rationale to be doing transformation faster and more effectively, we know its risky business" says Digiworkz's Laurence Collins.
This sentiment was borne out by our webinar attendees with 83% of participants saying it's highly likely or somewhat likely that their organisation's digital transformation efforts will intensify. Yet only 7% rate the chances of delivering successful transformation as highly likely. The majority (58%) only give their organisation a 50/50 chance of success.

With this in mind, we talked through five factors for delivering successful transformation in overdrive:
1.
Purpose:
Strategically prioritise projects on what amplifies performance
"Most transformations focus on process and systems, but they don't take people with them", says Chris. Sarah agrees, adding that people have different and overlapping requirements and if you want to bring them all on the journey, these priorities need to be aligned. Our panellists shared examples of aligning purpose to projects.
Maz's current project in the Middle East is operating at a national level to align purpose with a huge programme of transformation to realise the Kingdom of Saudi Arabia's Vision 2030. "We are looking at purpose and values as a nation. From the traditional to the future as a Kingdom. Saudi Arabia has a young population with more than 70% aged under 30 who are driving the direction of change".
At Virgin, the organisation has a 'North Star' which keeps them focused on the goal of being the most recommended provider as voted by customers and employees. "We are constantly striving to do things better. We know that happy employees lead to happy customers and shareholders which is what enables us to reinvest."
2. Collaboration: Challenging, inclusive and curious mindsets that solve big problems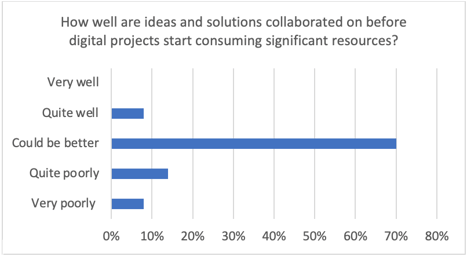 Data from our participants on the day showed that collaboration could be better (70%) and that it's managed very poorly our quite poorly for almost a quarter of organisations (22%). How can collaboration be improved?
"If you can drive cultural collaboration you are far more able to push the boundaries", says Maz adding that a new way of thinking across functions builds better collaboration: "Historically we have worked in functions, but we need to think differently and digital is driving this. Think about the way that consumers drive demand in retail. It's the same within organisations."
"Collaboration on programmes should focus energy on what needs to be achieved, something that is goal oriented and that motivates people to achieve goals together", says Laurence, adding that technology has a role in making this a reality.
At Virgin, Chris says that being mindful about culture helps to build better collaboration: "We focus on creating a sense of belonging. Our culture web to show the stories, myths, symbols, power structures, formal, informal, rituals, routines. All this starts to play into collaboration and integration."
3. Mobilisation at pace: Faster set up and scale up of projects and initiatives
Adequate planning is the key to setting up and scaling a project at speed says Chris: "Planning is how you get pace. Spend time on definition and what you're going to require from the people on the project." Add to this traction with stakeholders that will help to build momentum. This combination of planning and stakeholder buy in is how you get velocity and direction.
You also need to have the right architecture in place says Maz: "For example, if you have an 18-week budget sign off process but you want to run two- or four-week sprints, it's not going to work." Speed is also connected to continuity adds Chris. If your organisation has lots of 'pet projects' that are neither connected to company purpose or meaningful to those involved, then its dispiriting for the team when projects are constantly changed or closed down and re-started. This damages the organisation's ability to move at speed.
4. Skills Optimisation: The development of stronger and more flexible skill supply chains
"Owning skills is not digital transformation but it is a digital enabler", says Chris. "Skills includes not just what the skills are but where the skills are and how we access them." How can organisations ensure their future supply of skills will match demand? Chris explains that his team is looking five to 10 years into the future to plan skills supply. Addressing this includes investing in apprentices with skills the business will need in the medium-term future.
Access to a more flexible skills supply chain has been aided by the pandemic, says Sarah as people rethink their life and how they want to work post-pandemic. "Business will benefit from a more diverse workforce including up of ad-hoc workers and contractors" which will offer a more agile supply of skills.
"There needs to be a connection between human indicators and optimisation of the workforce", adds Laurence. Using the Digiworkz methodology, "We look at energy in absolute terms of people relative to the setting and pace, and the consequential impacts of that".
5. Value Creation: Real-time monitoring and evidence of returns on investment
"Measurement needs to be done in real-time. It's not something you do once", says Chris. "To track value creation, you need to make sure measurement is tangible to the outcomes you are aiming for." Laurence adds the human element to measurement and monitoring explaining how Digiworkz, as part of programme measurement, monitor how much people talk about a project. Are they proud to be a part of it? Is it developing their skills?
Building on this, energy is an important word, says Sarah. "energy gets sucked out of people when you use the same team in every programme. It's relentless. Failures gets people down. There is a lot of good stuff going on in innovation and collaboration and change. but it needs to be sustainable. This starts with leaders."
Identifying priorities for successful transformation
Using the five factors as a guide, we asked participants which of the factors would have most impact on allowing their organisation to better manage digital transformation. Purpose-led prioritisation came out as the most popular choice by far (44%). Organisations see the value of connecting purpose to programmes to significantly improve the success rate of transformation.
At Digiworkz this link between people, purpose and programmes is at the core of our methodology. If you'd like to have a conversation with us about managing transformation in overdrive, please get in touch with Russell Sowden at Russell@digiworkz.co.uk.
You can listen to this webinar again, on our website, here: