Our survey of senior leaders uncovered some startling statistics about the self-reported problems that organisations are facing.
We hope that by sharing the results of this survey we can build knowledge, spark conversations and push forward the debate around business and skills resilience.
This is part of a wider programme of engagement with our community of clients, partners and associates, building collective intelligence through collaborative research.
We hope you enjoy the read and we would love to hear your thoughts.
Our survey uncovered 3 key findings:
Resilience is at risk due to skill gaps
Future work and workforce demands are hard to predict and prepare for. Skill gaps and the cost of acquiring critical skills are key concerns for senior leaders.
67% of senior leaders report that they cannot turn the dial on skills supply to match changing resilience requirements.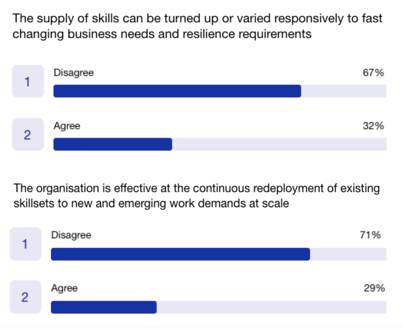 Re-skilling efforts are falling short
With the waves of automation and digitalisation demanding new emergent skills, senior leaders are not confident in their re-skilling programs ability to deliver.
80% of senior leaders report that they have not synchronised the rate of re-skilling with the pace of technological change.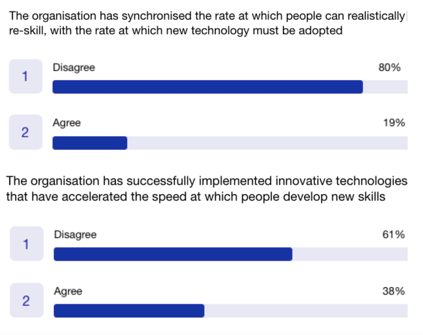 ROI of people analytics unrealised
Despite the huge investments that have been made into people analytics functions, the ability to match skill supply with demand has not been mastered.
3% of senior leaders report that the people analytics function is having a significant impact on ensuring sufficient skills supply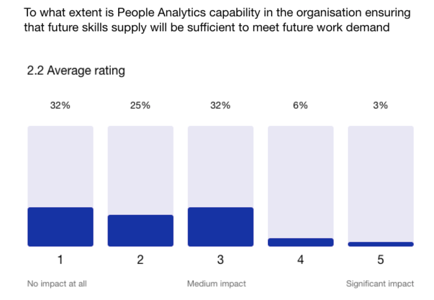 Conclusion
Businesses must now reskill and remodel their workforce to be successful in the post-pandemic era