In the face of Covid-19 related headwinds there is no choice but to keep accelerating change. But how ready is your business to move at the speed and scale needed? Most leaders are already wrestling with levels of technology-oriented transformation that threaten to take the organisation beyond its limits.
We know that a large proportion of transformation projects fail. Propensity for success or for failure is determined well before project kick-off says Digiworkz' Laurence Collins, who warns that without a focus on solution resilience and collaboration, any change initiative that reaches too far, too fast, risks causing lasting damage.
Sufficiently de-risking at the planning stage by taking a wide view of risk, that puts more emphasis on people and culture, is needed to deliver successful transformation.
The problem with transformation
Well known research by McKinsey found that 70% of business transformation projects fail. Taking this ratio and applying it to the annual value of transformation projects, Harvard Business Review puts the cost of transformation failure at $900bn every year.
Why does this matter? Because we will be doing much more of it in the future. 79% of executives surveyed by Accenture Technology agreed the future of work will be based more on specific projects than roles. So, in short, we'll be working on more projects, but we know we're not great at it!
The problem as I see it is that the forecasting, monitoring and measurement that organisations use to drive their projects is just not fluid or flexible enough and doesn't take place in real time. A focus on task-based project management leaves gaps that expose projects to increased risk of failure.
More importantly, traditional approaches do not put enough weight on the human elements of transformation. Not just human in terms of skills and resources, but as we'll explore in this post; the thread of people, purpose and culture that needs to run through every successful transformation project.
People, skills and work task design
There is plenty of evidence to point towards a people centric approach to transformation. Extensive research by Google identified factors inherent in the way that successful teams operate. Google found that team effectiveness is driven by the extent to which people feel they have psychological safety, dependability, clarity, meaning and impact. This manifests itself in whether people feel they can speak up, how they network across an organisation, how well they connect, attitudes to problem solving. All of which affect the chances of project success.
In summary, we can't make business transformation work solely from a technology innovation angle. Transformation is not just about plugging the digital elements together. We need to understand the role of talent and skills, and of work task design to accelerate change and create true value through successful transformation.
The Digiworkz model of people-centric transformation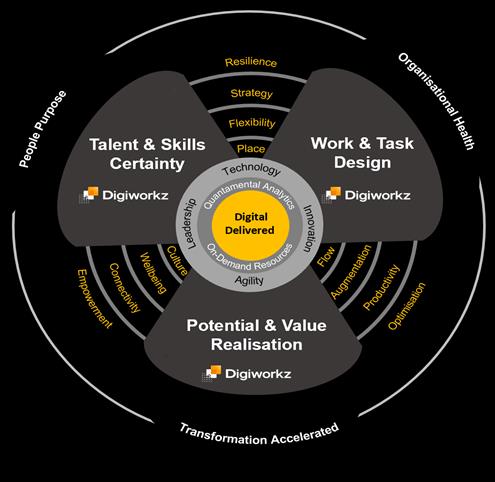 To guide an explanation of how to practically and tangibly put people at the centre of transformation, I'll briefly walk through the Digiworkz model.
At the outer edges of our model are the outcomes that need to emerge, and they encircle all the components within it:
People purpose:

Transformation is meaningful and purposeful to the people involved in delivering it. See transformation as the catalyst for opportunity transparency, empowerment and inclusivity.

Organisational health:

The extent to which your organisation grows stronger and more resilient through the capacity, the leadership, the resources, and confidence to deliver on your ambitions. In the words of NASA, 'dare mighty things'.

Accelerated transformation:

The pace and agility with which value is created from both the digital investment and the inherent capabilities of human capital. The SEC development of late 2000s clearly indicated the way the market is moving in terms of disclosing the materiality of people-powered performance.



Jumping to the core of our model: transformation is underpinned by a combination of quantamental analytics and on-demand resource.
Quantamental analytics, a term borrowed from investment management, refers to the development of insights that combines the fundamentals of human cognition and judgement with quantitative data-driven evaluation and prediction to ultimately manage risk.
On-demand resource means not always using the same people and teams but thinking broadly about accessing resources through flexible project marketplaces that combine in-house and external skills to ensure programmes stay on track and that people are used smartly.
These two factors work in tandem to guide project delivery.
The cornerstones of transformation
The factors we refer to as the cornerstones of transformation are fundamental to programme planning – as the failure to be adaptive in planning and problem solving is why most projects fail! In fact, most project risks are pretty much manageable if you understand them and put the right mitigations in place before you begin and maintain them dynamically throughout the lifecycle of transformation.
Great leadership: Putting your arms around whatever it is that you're building and taking the team on the journey with you. There is also a call for leadership to manage dependencies on other parts of the organisation which can be huge on some projects - most commonly around tech architecture, systems and security.

Technology:

Tech needs to be future-proofed because it won't always be ground-breaking by the time it's implemented! I'm always amazed at how many people regret their choice of technical solutions. Too often they don't see the potential and value realisation.

Innovation:

Through people collaboration – so making sure you have the right team and people with transferable skills. This means not always calling on the 'A' team but having a constant supply of the right thinking that's properly connected.

Agility:

The internal functioning of the organisation. How easily can you move people around? Can you enable the project to move faster? Can you prioritise projects properly? Is the business strong enough to put up with failure?




Three key variables to hold in alignment
Lastly, three key factors (and some questions to ask) that need to be aligned throughout the project duration.
Talent and skills certainty
Have you got the right internal mindset to deliver a project of this nature? Have you got a level of wellbeing (people fit, resilient, able to speak out)? Do people collaborate? And finally, do they have the power to make decisions and deliver this in a way that is aligned with organisational aspirations, without being hampered by barriers and a hierarchical organisational structure?
Work and task design
Where are the resources you need? How will you ensure flexibility in the way that you scale resource up and down? Move team members between jobs? On board/ off-board them? How does that determine the strategy that you'll need for the programme to work?
Potential and value realisation
So many projects take so long before they deliver a penny that the business moves on, risk flags are raised, budgets get cut because benefits have not been captured and linked back to the mission. This loss of confidence in the project may lead to compromises around technology or level of innovation. The value is eroded, and the project is closed or a new one started in its place. It's critical to continually loop back to assess value creation to avoid this scenario.
Building your transformation programme
Having explained our model, what can you incorporate into your own programme to increase the chance of success?
Firstly, make sure you have the right conditions. This includes the relationship between work, task design, talent and skills, and value realisation. Consider how you will measure the impacts that you see? Most importantly, at Digiworkz, we believe you've got to empower people to make things happen.
Managing transformation is the topic of conversation at our next webinar on 3rd March. If you're interested in this topic, please join us. We hope to see you then!